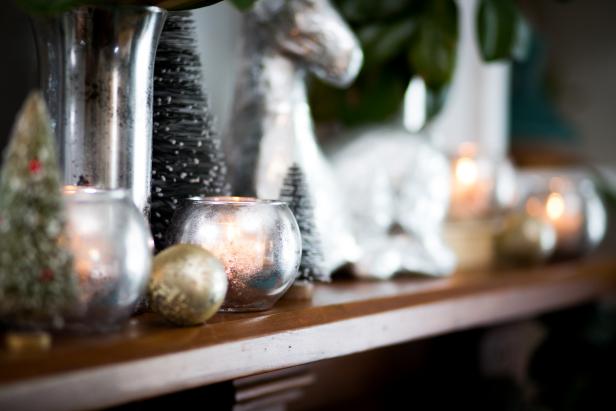 Photo Credit – HGTV.com
A fun project to tackle yourself or with kids that will help decorate your house for the holidays: mercury glass. Not only is it subtle and chic, but adding these to your normal everyday décor can add a touch of delicacy to the mantle or table.
You can reuse old vases, candle votives, or decorate ornaments for your tree. It uses the three simple ingredients of vinegar, water, and spray paint.
Materials Needed:
Glass (vase, candle votive, ornament)
Protective gloves
Vinegar
Water
Spray bottle
Mirror finish spray paint
Cloth/paper towel
Mix
The first thing you'll do is mix one-part water with one-part vinegar in your spray bottle.
Spray
Spray the glass you have chosen with a light coat of the mirror vanish spray paint. Then, immediately spray it again with the vinegar and water mix.
Blot and Finish
Use a cloth or paper towel to blot the glass. Let it dry for about 30 seconds. You can repeat this process 6 times, or until you get the look you desire. Allow the glass to dry completely before you display your finished piece, so it doesn't leave marks on your furniture.
Visit HGTV.com to see the video demonstration.